Sacramento Quinceañera Photographers & Videographers
MORE THAN JUST MOTION & PICTURES, WE CAPTURE ONCE-IN-A-LIFETIME, BEAUTIFUL, AND AUTHENTIC MOMENTS.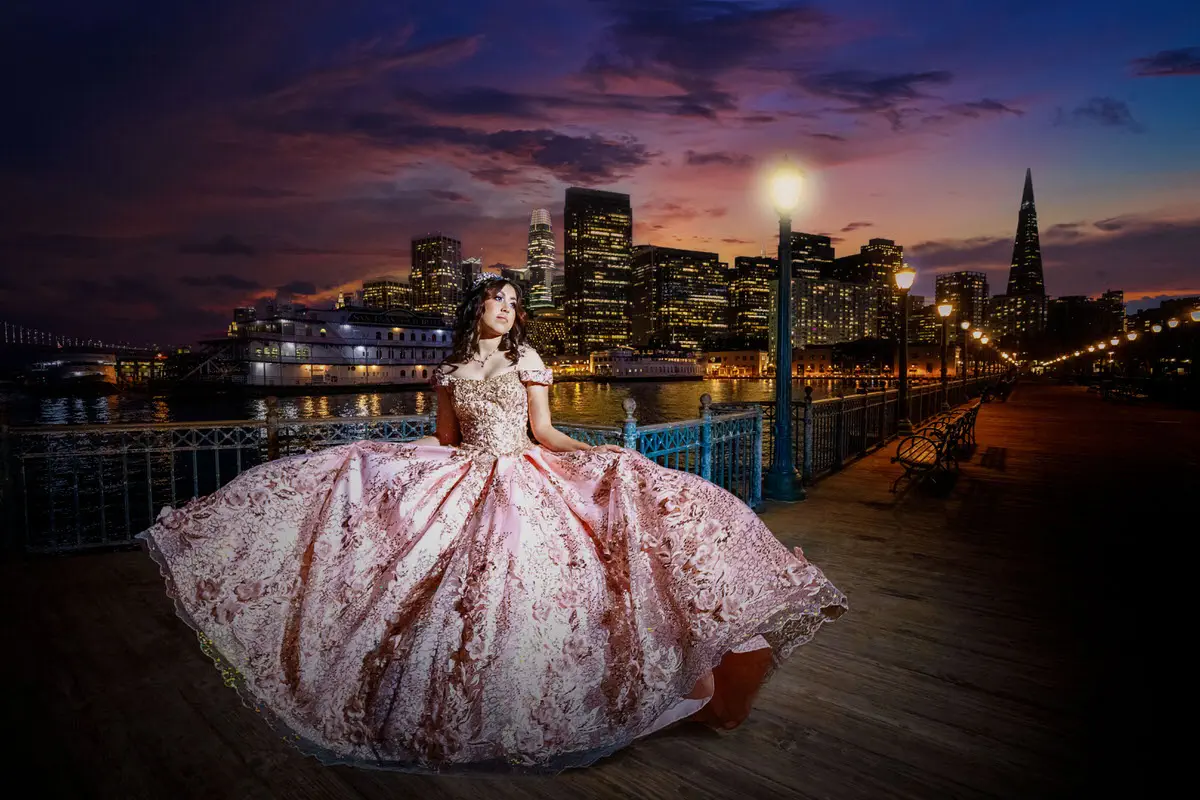 CINECROWN IS A SACRAMENTO-BASED QUINCEANERA PHOTOGRAPHY STUDIO DEDICATED TO DELIVERING STORIES.
A Quinceañera is a special 15th birthday culture celebration. We at CineCrown specialize in Quince Photography Sessions and aim to capture the uniqueness of the Quinceañera in a way that is unrivaled. We offer Quinceañera Photography in Sacramento, San Francisco, San Jose, and Napa – we focus on capturing images with impact, as well as candid moments of your daughter's Quinceañera that will appeal to her personality and character. You can also be assured that we understand the value of your daughter's day and how important it is to you!
NORTHERN CALIFORNIA AWARD-WINNING WEDDING PHOTOGRAPHY AND VIDEOGRAPHY TEAM.
At CineCrown you'll find the best Quinceañera Photographers and videographers with the best ideas for your Quinceañera event. Our Quinceañera Photographers are professional and highly qualified to create the finest Quinceañera Photography & Videos. CineCrown offers other Quinceañera Photography sessions such as travel stylize photoshoots and in studio photoshoots. At CineCrown, we create an experience that will undeniably be unforgettable.
Celebrate your 15th birthday in style this year! Let's create the memories to last a lifetime. You can wear your Quinceañera dress or an outfit your really like and we can include your parents and immediate family or you could include your chambelanes or damas.
Cinematic Quinceañera Filmmaking
OUR WORKS ARE JUST SIMPLY RETELL YOUR SPECIAL DAY IN A CREATIVE WAY
CHECK YOUR DATE
Quinceañera Short DocuStory Filmmaking Video
Feature Signature Designed Album
Quinceañera Photography – Beauty, Story & Style
Let's create the moment together, fun and authentic!
CineCrown is Sacramento Top Quinceañera Photographers and Videographers in Sacramento, Napa Valley, Bay Area, Vallejo, Ek Grove, Granite Bay, Roseville, Rocklin, San Mateo, Placerville, Lake Tahoe, South Lake Tahoe, San Francisco and greater Bay Area. CineCrown focuses on capturing beautiful Quinceanera photos when they photographQuinceañera events, family photos, Quinceanera sessions. CineCrown is devoted to the top customer service and making sure that they receive 100% satisfaction guaranteed. Not only are they excellent at being videographers, but they are great a great Quinceanera photography company that does Quinceanera photography in Sacramento, Elk Grove, El Dorado, Bay Area, San Francisco, Napa Valley, Granite Bay, Rocklin, San Mateo, Roseville, Lake Tahoe, and South Lake Tahoe. CineCrown is always excited to work with new upcoming brides and amazing clients, and is ready to provide design consultations as well as wedding consultations.
Sacramento quinceañera Photography & Video
Request Our Pricing & Availability for quinceañera services
Our Quinceañera Photographers are the Best Quinceañera Photographers in Sacramento and San Francisco, they are ready to listen and offer everything they have in mind. For your Quinceañera photos, we have the best, here at CineCrown Photography: the best ideas for Quinceañera photography and the best locations for pictures of quinces.
Our professional quinceañera photographers in Sacramento need to capture your memorable moment on your special day. Give us a call and we'll set up an appointment.
Quinceañera Travel Experience
Our CineCrown photography experts won't just stop here, we are alway strike to making our Quinceañera's dream a reality in every single way. There's no limit, or bound to making your Quinceañera dreams come true.
Your Quinceañera will feel like a high fashioned model, as she strikes a pose in Sacramento or San Francisco's Sunset. Bay area piers and beaches are the perfect places to take breath taking sunset and night shoots that have made San Francisco, a very popular photo destination.
Quinceañera Investments
Let's Set Up A Consultation
Investment & Pricing Packages
PHOTOGRAPHY AND VIDEOGRAPHY COST
Photography Packages
starting at $3199
Cinematic StoryFilm Video Packages
starting at $3199
Customized budgets are available at consultation.
Ready to Start
check the availability & set up a free consultation
CineCrown is a team of photographers and filmmakers working together to capture your special day. We create extraordinary photographs and films that tell your story. Photographers come in all shapes and forms, and if we can help you move closer to the right place for you, regardless if it is us or not, we will be happy. You can relax knowing that you are in good hands and we promise to provide you with dynamic, emotional, and authentic films and images that are created by our passionate and talented photographers and videographers.
Quinceañera Photography and Videography Team.
Quinceañera photographers & videographers' costs can range from very high to low, but rest assured that we are willing to help you with your budget to the best of our abilities. The wedding photography and videography prices will range depending on what our clients need
With our talented and passionate CineCrown team, you can expect both the photos and the videos to be done beautifully, and more importantly, they're seamlessly working together. Whenever you look through your wedding photographs or watch your wedding video, you will surely be transported back into that time and get to live it all over again.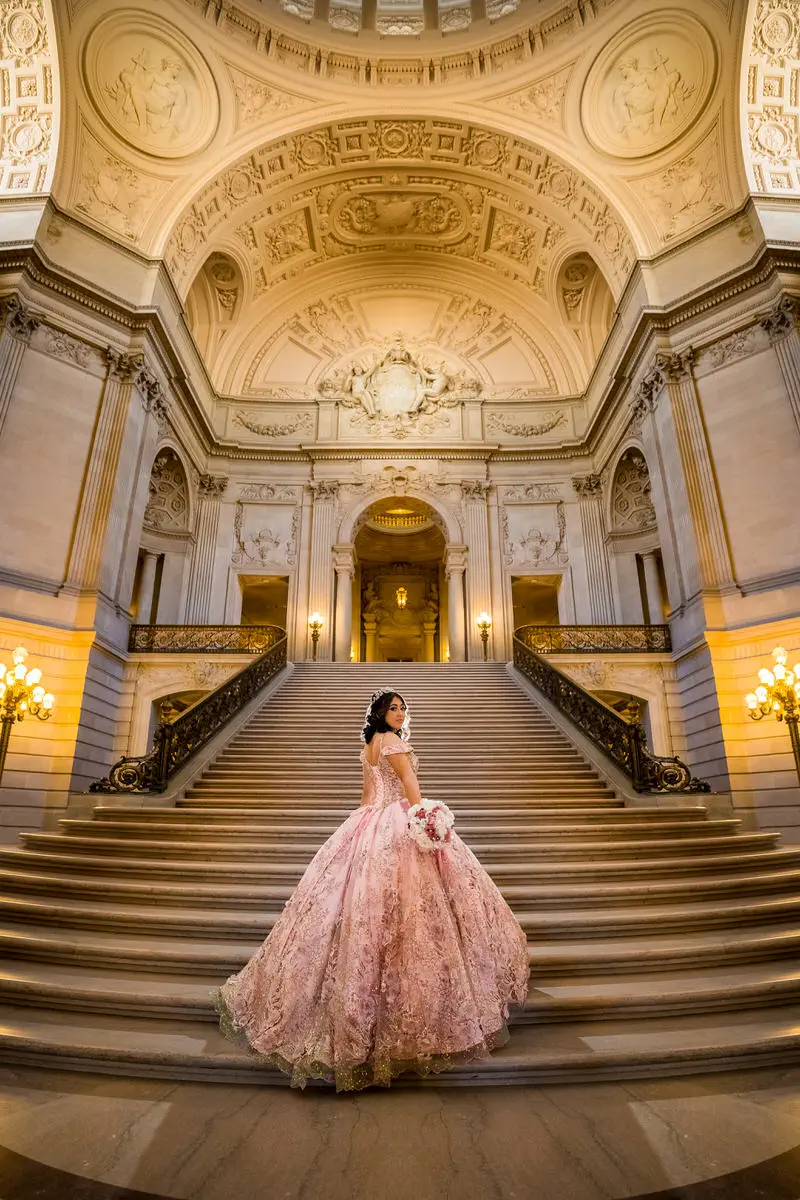 Why Quinceañera Travel Experience?
YOUR QUINCE PHOTOS WILL LOOK AMAZING. Your friends will have the usual quinceanera photos, but you'll have something unique. We can take your picture at the gorgeous San Francisco landmarks as our CineCrown photographer captures you in front of famous sights.
Turning 15 means you're no longer a kid. You've entered womanhood and want to mark the occasion with an outdoor adventure stylized photoshoot.
Push your dream to a high-end photo shoot now when you've started planning your Quinceañera, Don't forget to get in touch with our photographer. We can provide you with some amazing shots ideas that are sure to capture the moment perfectly.
What Our Customers Have to Say
"I chose Martin Vo and his team to capture every moment of my special quinceanera day with their amazing cinematography. Martin was the head of the team for my quinceañera day and showed up early and stayed late to make sure everything was captured just the way he wanted it. He and his team spent a lot of time with me at my home while I was getting ready. They had some fun ideas of ways to pose and what to do to add to our video to make it perfect. It also allowed my photographer to get some fun poses too."
Lina G.
"We chose Martin Vo because of his consistency in producing artistic and fresh beautiful photos. Watch out for those companies who show you one album ir that has just a handful of quality photos. Cinecrown is consistent and always INNOVATIVE!
Martin Vo is the BEST photographer in Sacramento. We booked two years in advance and that allowed us to lock in our price and make payments on our packages. We upgraded twice because his product is just superior to any photographers we've used."
Melina M.
"Every little girl wants only the best of the best for their quinceañera day. I was once that girl, and on such a special day, I had the most amazing photographer ever to help capture our most special moments. I had the pleasure to work with Martin Vo and his staff at CineCrown Photography and I couldn't have had a better experience. From the moment of scheduling our appointment to shoot our quinceañera photo sessions, Martin and his staff made us feel very comfortable the whole way."
Kiana K.